5 ways to improve your website's SEO and 2 ways that won't
Like everything else with application and web development, the world of search engine optimization (SEO) has changed quite a bit over the years.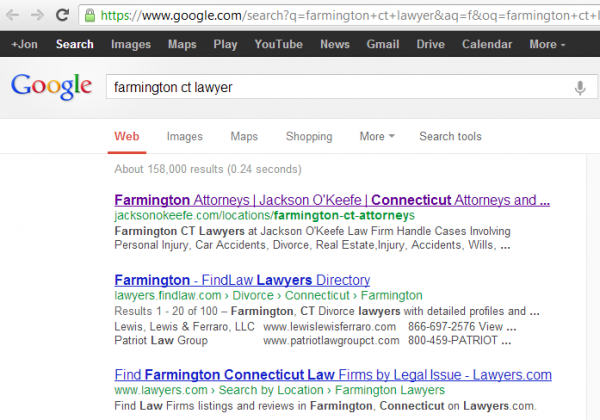 Google still reins king, Bing is trotting far behind, and Yahoo!, like a little brother, copies everything that Bing does. Social Media and traditional PR are major factors that drive traffic as well.
We'll focus on generally accepted best practices as the actual algorithm that determines where you rank looks at hundreds of factors and is locked up in a secret cave somewhere. However, I'll list some of the low hanging fruit below that can begin to help drive your site up the ranking ladder.
Following are five ways to help improve your website's search results and two ways that won't.
Know what your customer is looking for

Use relevant keywords in your title, and in your content that directly relate with what customers will be typing into Google. Of course, if you type in "My Company Name", you should rank first – that's easy. It's getting those quality key word searches to bring you up that is the tricky part.

Keep your titles short
Your title needs to appear as a complete thought on the results page, and more important, you don't want to lose any keywords that were cut off by the search engine! I typically recommend keeping a title less than 60 characters. Anything more than that, and it will most likely be truncated. For this reason, it is also very important to put your most relevant keywords towards the beginning of your page title.

Responsive Web Design
You've heard me talk a lot about responsive web design (RWD) here on Jonster.com. There really is a reason for this! RWD makes a big difference with SEO, in fact, Google even recommends it right in their SEO docs. The main reason being, is that sites that use responsive web design, i.e. sites that serve all devices the same set of URLs (in other words they don't have a specific mobile site such as mobile.mysite.com) increase their index ranking.

Google actually sees every sub domain as an entirely different website and will therefore divide the rankings up by your regular site and your mobile site. RWD eliminates this and gives 100% of the ranking to your site.

Use the Webmaster Tools
Both Bing and Google offer some killer webmaster tools. They both require you to sign up and verify ownership of your website. Verification will only take a few minutes (of course, we will help you with this if needed, and it comes standard with any site that we do.) The Webmaster Tools is also were you can submit an XML sitemap. Submitting a Sitemap should be a bullet point all on its own in this post, but I decided to lump it in here. This XML file will tell search engines the exact URLs of every page of your website and how often they get updated and will help ensure that no pages were missed during indexing.

The most important point:
Create amazing and fresh content, constantly.
I can't stress this one enough as it is single handily the best way to improve your rankings over the long term. Creating real content that real users want to read will not only organically increase the number of inbound links to your site from other sites, but will bring return users. Try incorporating a blog or even a news page. You will generate social media buzz, overall sharing and the search engines will take note of this. Trust me; they will assess how valuable your content really is - remember that algorithm locked away in a cave? This is a big part of it.

You are the best resource that you have for increasing your SEO wealth!
Now as I mentioned earlier, a lot has changed in the world of Search Engine Optimization over the last decade or so. The following two methods of SEO are basically irrelevant today:
Meta Keywords The top search engines have basically not used meta-tag keywords in over a decade. Meta-tag keywords have been overused, over stuffed, and abused. You can, and you should still include them as there are literally dozens of search engines across the world and anything helps (it won't penalize you), but you should not rely on them to drive traffic or increase your ranking.
Keyword stuffing Stuffing every page full of repeating keywords will not help you! Far too often I see this and it just makes a visitor to your site want to go somewhere else. Going back to #5 above. Remember, real content that real users want to read, that's the ticket. Get busy, get creative, and get ranking!
Any more tips? Let me know below!